Our School
---
Are you searching for a German School which offers you flexible and high-quality German courses at favourable prices?
Then you are at the right place! We offer German courses with good and creative teachers for unbelievable favourable prices in Vienna and online. Fun of learning languages, interest in discovering Vienna and offering you efficient lessons is our main focus.
In our school are working teachers from several german speaking regions to bring you the several dialects of the German language closer.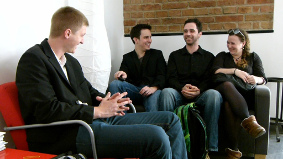 Book online, via telephone or simply personally in our institute.
Just here
---
For Free: Job-Coaching for all courses over 2 months
For Free: Module Art and Cultural History Austria
Directly at St. Stephen's Cathedral
Flexible start possible
Maximum 10 persons per face-to-face course
Good cost-benefit ratio
Reviews
---
"The course at EWI was great, I look forward to the B1 Course after the summer."
– Michael
"Great school with great teachers. The central location is just awesome, too. 'Wien' is a wonderful city and the trainers helped us to find our ways!"
– Bowie
"…a very pleasant atmosphere, thank you EWI-Team…"
– M. Schwabinger, Mödling

*translated from German

"The school lies very central and has helped us to find an accomodation, too. We have learned a lot within the two weeks. The cultural offer was also good. Would like to come again."
– Dimitri, Vienna

*translated from German

"…learned so much in such a short time…"
– C. Pokorny, Wien

*translated from German

"I attended a variety of courses already, this is my 3rd with EWI, no comparison. From now on I will attend courses again only here."
– Anonymous Participant, Wien

*translated from German

"Just one word: Thanks!""
– Sophia

*translated from German

"There are a couple of language schools in Vienna, we chose EWI because of their likeable appearance. All our expectations have been met and we learned a lot. Thank you EWI!"
– Lena and Sofia

*translated from German

"I'm from Ireland and already know German quite well. I chose EWI because they have really good teachers and because with Individual Coaching I wanted to take the opportunity to learn more about the Austrian dialect.. Really Great! Thank you!"
– Barbara, Ireland

*translated from German

"EWI school is great. I was able to improve my German skills a lot and I am definitely booking the next course with EWI again."
– Linda S., Graz

*translated from German

"… Uniquely enjoyable institute in Vienna. You feel that you are in good hands right from the start! Unfortunately I couldn't partake in a course right away…"
– Mr. Werth

*translated from German